Thank You
Brazil Week, Lavagem da Rua 46 & Brazilian Day de Newark
A big thank you to all our Board members,Brazilian Consulate, Newark City Hall, Mayor Ras J. Baraka, Minister Luislinda Valois, Newark Public Library, Producers, Agents, Entrepreneurs, Media, Dignitaries, Sponsors, Artists, Volunteers and the beautiful, educated and cultured public, young and old.
We will not forget that without all of your contribution, don't matter how small it was, the Production of "Brazil Week, Lavagem da Rua 46 & Brazilian Day in Newark " could not have been a huge success as it was for 2017.
We will continue steadfastly and with great pride, to introduce, raise awareness and educate the public of our rich Brazilian culture through the various "Brazil Week" projects in the upcoming year.
We appreciate your great effort, sacrifice and cherish your valuable friendship.
Thank you !
Silvana Magda 
(917)528-8151
www.brazilwweknyc.com
Semana do Brasil, Lavagem da Rua 46 e Brazilian Day de Newark
Muito obrigada a todos os nossos membros do Conselho, Consulado Brasileiro,Ministra Luislinda Valois, Prefeitura de Newark, Prefeito Ras J. Baraka, Newark Public Library, produtores, agentes, empresários , mídia , Dignitários,
patrocinadores , artistas, voluntários e do público bonito, educado e culto, jovens e velhos.
Não vamos esquecer que sem toda a sua contribuição, não importa a quantidade mesmo sendo pequena fez a diferença, a produção do "Brazil Week, Lavagem da Rua e o Brazilian Day" não poderia ter sido um enorme sucesso como este ano de 2017.
Continuaremos firmes e com muito orgulho, para introduzir, sensibilizar e educar o público da nossa rica cultura brasileira através dos vários projetos da "Mês do Brasil " no próximo ano.
Nós apreciamos o seu grande esforço, sacrifício e valorizar sua amizade valiosa.
Muito obrigado !
Silvana Magda 
(917)528-8151
www.brazilwweknyc.com
Brazil Week 2017
Remaining Program
Brazil Week in Newark
To promote cultural diversity and introduce the public to authentic Brazilian culture, also organize community Festivals
and Parades, featuring a variety of activities namely: Art Exhibitions, Heritage Markets, Ethnic Dances and the like.
August 28 to September 30.                  
Expo Brazil at The Newark Public Library
Celebration of Brazilian Carnival  
Display Duration: (Aug. 28 to Sept 30)
Time: 9am to 5pm daily
The Newark Public Library
5 Washington Street
Newark,NJ 07101-0630
The greatest show on Earth ! Brazilian Carnival comes to The Newark Public Library with a display of dazzling luxurious Costumes from different States of Brazil, a warm up for the Lavagem da Rua 46 Brazilian Cultural Parade and Carnival in all its glitz and glamor, and the Newark Brazilian Day Festival along Ferry Street. September 3, 2017.
Tuesday, August 29 to September 29.
4pm – 5pm  
Brazilian Cultural Workshop Series for kids
Workshops will begin on August 29 and continue every Tuesday in September.
It's a special program for kids where they will be introduced to Brazilian arts and crafts, music and dance.
This Project is geared towards educating young people through promoting a greater awareness of richness of Afro Brazilian culture and traditions.
This Series for Kids also offers light exercises in physical fitness.
Workshops by Silvana Magda,Kiki da Bahia, Veronica Martins and special guests.
Friday, September 01,08,15, 22 and 29
6pm to 9pm
Brazilian Film Screening Series    
Every Friday in September a different movie genre.
Action, Comedy, Drama and Romance.
Debate and a pocket show immediately follows each movie.
Music performance by Tony Mola, Joana Nova Iorque, Alexandre Cavalcante and surprise guests.
Brazil Week At The Newark City Hall
In 2017, Brazil Week honors women who have made a difference in Brazil's history and society and promote Ethnic Tourism. Under the themes "Women of Power and Axé", two cultural exhibits.
Venue: Newark City Hall
Date: Aug. 30 to Sept. 30 
Time: 9am to 5pm daily  
JOIN US !
All the rhythms lead to Newark !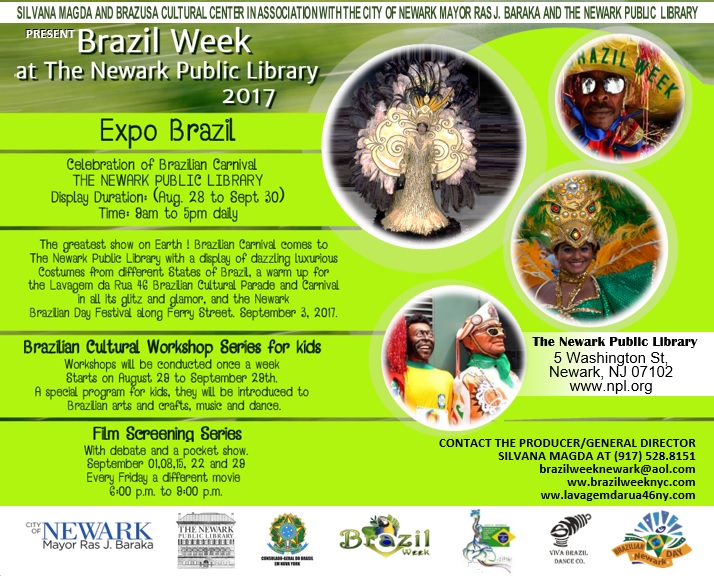 JUNTE-SE A NÓS !
Todos os ritmos levam a Newark.